our services
Looking for a tailored plan? Our design office will be very focused with your expectations.
Answer within 2 days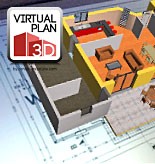 With Virtual Plan 3D, our plans become alive in augmented reality using a tablet or a smartphone!

---
Our house plans
We present our collection of house plans. Browse our catalog of house plans and discover a large number of models designed and illustrated by our team. You can buy a house plan from 14.90€ at construireonline, house plans at small price for professional quality.

We envision a modern and contemporary architecture for future construction projects, and creating functional and comfortable interior spaces.

A wide selection of house plans in different architectural styles: modern house, modern house, traditional house, Mediterranean house, Provencal house, wooden house, north slope house, architect-designed house...

Our designers working on various building types: house in L, V house, house U, storey house, two-story house, house with basement, house with staggered levels.

Each house model, you can download the house plan for your needs: wide plan, dimensional drawing, complete plans, comprehensive plans and providing editable DWG files. To give you an idea of your future plan, there is also a plan for each 3D model available from the website.

We innovate constantly to be at the forefront of technology in terms of imaging, 3D video, web application in order to offer a high quality presentation of our house models.